Reubs is a genderqueer trans woman.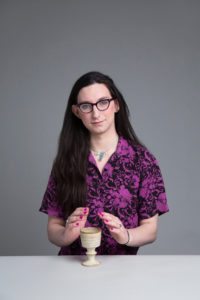 From an early age Reubs was interested in science and religion (specifically Methodism) and expressed feeling 'like a girl', without needing to be one.
Reubs is a neuroscientist (MSc), worships at and is a board member of the Metropolitan Community Church. She is engaged to be married.
"God doesn't make mistakes. The part of me that is a woman and the part of me that society misinterprets as being male are both very, very intentional. God gave me this gender identity experience.
I want to do God's work and that's still what defines and motivates me. All people are created by God and God has a plan, not a plan of the sort that I might write as a scientific experiment, but a plan that only God could come up with, and this plan includes things that affect gender. 
Gender is an incredibly powerful force in determining people's role in the world. There is a difference between being a cis woman and being a trans woman. They are both women in exactly the same ways but their experiences of gender in relation to the social constructs and social phenomena of gender are different and so God needs trans women, and God needs genderqueer people, and God needs trans men, and God needs cis people."