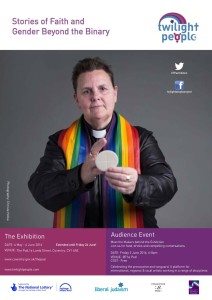 The Twilight People exhibition at the Pod Collective, Coventry, has been extended and a special 'Meet the Makers' event added.
The groundbreaking exhibition, exploring stories of faith and gender beyond the binary, will now run until Friday June 24. An Audience Event, celebrating the provocative and vanguard, takes place on Friday June 3 from 6pm. Both are free.
For opening hours and more about the venue, please visit www.facebook.com/thepodcoventry
When the exhibition launched earlier this month, Twilight People project manager Surat-Shaan Knan said: "We are really excited to have been invited to The Pod Collective. Twilight People – in line with its hosting organisation Liberal Judaism – are proud of our commitment to community engagement, and we are confident this will be in many ways a truly transformative and empowering collaboration."
The Twilight People exhibition is Britain's first highlighting the heritage of transgender and gender nonconforming people of faith. It is hosted by Liberal Judaism and supported by the National Lottery through the Heritage Lottery Fund.
It originally ran at the Islington Museum in London. For a video with Surat-Shaan and others talking about the project, click here.
Rabbi Danny Rich, Liberal Judaism's senior rabbi, said: "The Twilight People project goes from strength to strength and I am proud that people around the UK will now get to interact with this wonderful exhibition."
The Twilight People exhibition is also planned to run in Manchester, Brighton and Eastbourne. More details will follow soon.
Original article – link here: http://www.liberaljudaism.org/twilight-people-tour-starts-in-coventry/